Importance of cyber protection in MSMEs digitalization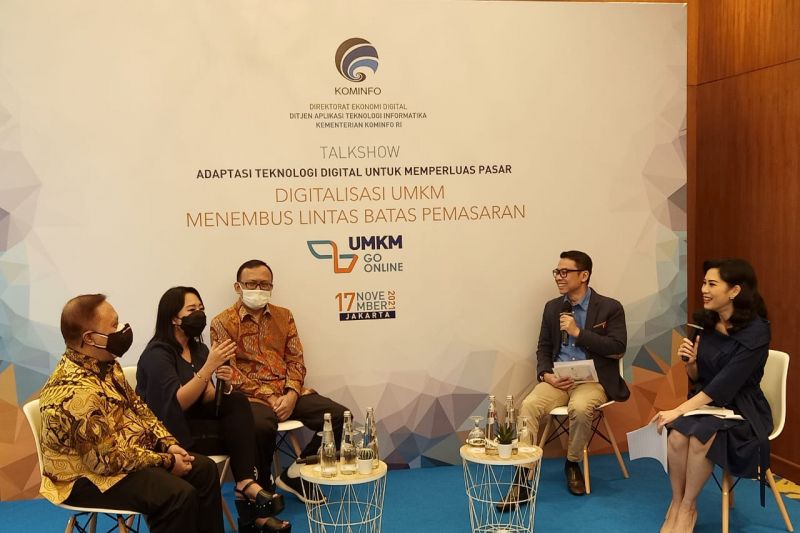 Jakarta (ANTARA) - The government's plan to encourage micro, small, and medium enterprises (MSMEs) to go digital for their market upscale might have its consequences.
Encouraging MSMEs to go for digitalization should not only direct them to enter digital platforms but the government must also train MSME entrepreneurs on cyber protection.
Digitalization is a double-edged sword that brings benefits and disadvantages to those not familiar with the technology.
The digital world is filled with cyber threats imperiling users' safety in the long term.
MSMEs players unfamiliar with digital technology might feel confused about the complex and complicated system.
To this end, IT and digital expert Professor Marsudi Kisworo explained that in the use of digital applications, the users require self-protection to avoid data theft and as a precautionary measure against hackers. Since the digital world is not limited by space, efforts must be made to maintain a strict database.
OTP codes, identity numbers, and other personal data should not be easily given to other parties carelessly. He also suggested that MSMEs players choose a trusted marketplace with proven credibility, he affirmed.
Kisworo reminded MSMEs players to gain greater understanding of digitalization and gain references from trusted parties. This effort aims to help MSMEs players equip themselves with sufficient knowledge before entering the digital world to prevent their business from experiencing losses.
For instance, an account for MSMEs on social media or marketplace must be handled by the MSMEs owner and not handed over to employees, who risk quitting one day or could commit fraud in future.
Digital potential should be optimized, especially during the COVID-19 pandemic.
Director-General of Information and Communications Applications at the Communication and Informatics Ministry, Semuel Abrijani Pangerapan, expounded that Indonesia's digital economy was valued at US$70 billion, with e-commerce being the main contributor.
In 2025, the figure is estimated to reach US$146 billion. This revenue should become a momentum to rise from the impact of the COVID-19 pandemic.
Earlier, the Ministry of Communication and Informatics had opened training for MSMEs players, with the target of assisting and facilitating 26 thousand MSME players that are currently entering the stage of active selling on digital platforms.
Training Center
In an effort to protect the MSMEs sector from digital fraud, the Ministry of Communication and Informatics has provided a training center in several regions to encourage MSMEs players to utilize digital technology through mentoring and facilitation.
Through the training center, MSMEs players are expected to directly monitor sales at various marketplaces as well as applications transactions or Point of Sales.
Through the MSMEs Facilitation Program Towards Active Selling, the ministry also prepares MSMEs players to actively utilize technology and digital platforms.
The program includes four stages: On Boarding, Active Selling, Scale Up Business, and Go International Market-Export.
Hundreds of MSME players with various products partook in the program initiated by the Ministry of Communication and Informatics. Through the program, they were introduced to digital marketing to scale up sales.
Director of Digital Economy from the Ministry of Communication and Informatics I Nyoman Adhiarna stated that the biggest challenge in encouraging digitalization is changing the mindset of the older generation to accept and learn digital marketing. Hence, his party will continue to provide guidance, especially in the active selling program.
In addition, not all regions in Indonesia are equipped with stable internet connections. Adhiarna appealed to MSMEs in regions with unstable internet connections to focus on production and look for regional marketing partners with better internet networks.
However, the Indonesian government will continue to push the development of internet infrastructure in remote areas in Indonesia.
Former child artist turned entrepreneur, Chikita Meidi highlighted several special tips for being successful as an entrepreneur, with the first being to not to be afraid of a lack of capital as an entrepreneur.
As a housewife, who has been a skincare entrepreneur for 15 years, Meidi recalled having started her business by becoming a reseller at a marketplace and also working with manufacturers.
She also called for maintaining consistency. MSMEs players should get along with communities on social media to know more about developments in digital marketing.
Meidi admits that the revenue of her home-based business that she began was currently reaching Rp 80 million to Rp 200 million a month, which she does part-time alongside handling household duties.
Digitalization Significance
Meanwhile, Minister of Cooperatives and Small and Medium Enterprises, Teten Masduki, noted that the significance of digitalization for MSME players aligns with the challenges in the Industrial Revolution 4.0 era that demand all economic activities to shift from conventional to modern.
Masduki remarked that the COVID-19 pandemic had also accelerated the shift. Business and economic activities have moved from offline to online and the use of digital technology is on a more massive scale.
During the COVID-19 pandemic in Indonesia, e-commerce transactions increased by 54 percent, or more than three million transactions per day. In addition, Indonesia's digital economy has the potential to be worth US$124 million, or approximately Rp 1,700 trillion, in 2025.
To this end, the need for MSMEs to go digital is unavoidable. Digitalization is a necessity that encourages MSMEs to not only survive but also to scale up and contribute to the Indonesian national economy.
Masduki remarked that until today, at least 25.6 percent of MSMEs were present in the digital ecosystem, or around 16.4 million MSMEs players.
In future, Masduki noted that MSMEs players should be edified about the digital ecosystem approach that included business processes from upstream to downstream or end-to-end digital transformation. MSMEs players in Indonesia also needed assistance in an effort to optimize the digital platform.
To realize the plan, his ministry will initiate the consolidation of roadmap designs as well as grand designs to facilitate synergies, collaboration, and cooperation between all stakeholders in the digital MSMEs ecosystem.
If the plan is achieved, MSME actors will not only be migrating to digital platforms but at the same time, they would be secured through self-protection amid cyber threats.